Product Description
DTF-SERIES Two Heating Chamber FLAT and BENDING GLASS TEMPERING FURNACE
Model
Glass Size (mm)
Thickness(mm)
Productivity
Remark
Max.Size
Min.Size
LV-DTF1742-II
1700×4200
100×250
3-10
235m2/h
Take 3.2mm clear float glass 80%loading rate
LV-DTF1750-II
1700×5000
3-10
280m2/h
LV-DTF1760-II
1700×6000
3-10
340m2/h
LV-DTF2442-II
2400×9000
100×280
4-19
200m2/h
Take 5mm clear float glass 80%loading rate
LV-DTF2450-II
2400×5000
4-10
250m2/h
LV-DTF2460-II
2400×6000
4-10
300m2/h
LV-DTF3050-II
3000×5000
150×300
5-19
310m2/h
LV-DTF3060-II
3000×6000
5-19
370m2/h
LV-DTF3350-II
3300×5000
150×320
5-19
340m2/h
LV-DTF3360-II
3300×6000
5-19
410m2/h
LV-DTF3380-II
3300×8000
6-19
500m2/h
LV-DTF33100-II
3300×10000
6-19
1. Machine Application:
For producing flat tempered glass and thermal strengthened glass, which mainly used in the fields of architecture (doors, windows), shower room, garden fence, elevator, furniture, etc.
2. Main Technical Features: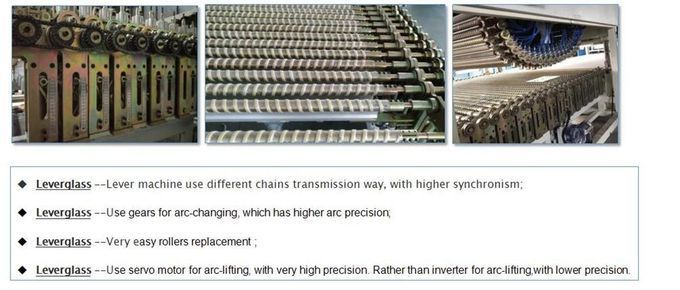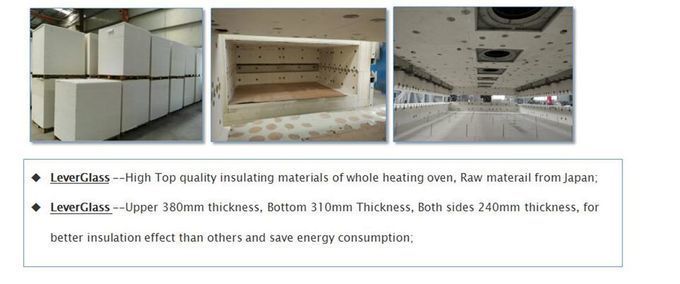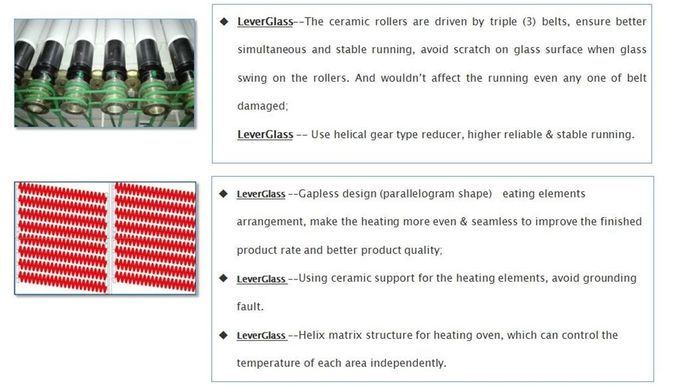 ►. Helix matrix structure for heating oven, which can control the temperature of each area independently.
►. Full closed heating oven and high quality Insulating materials with top performance which can ensure a minimum power consumption and uniform oven temperature.
►. Fault diagnosis system for the heating elements.
►. Advanced & specially designed high-temperature convection fans shall be applied in convection system to eliminate electro-magnetic vibration. And there is no need the water cooling system. Also, it is very easy to make the maintenance and repairment.
►. For the force convection fans, If power off, there is small generator providing power to convection fan which could avoid any damage because of high temperature
►. PID temperature control,
►. Preventive function for the wrong operation
►. Synchronous and asynchronous running of each section
►. Power monitoring function
►. Suitable for processing clear float glass, patterned glass, reflective glass, low-e glass, etc.
Following Machine Pictures (For your reference only)
Lever Industry Co have more than 19 years of experience in the Glass Processing Industry. We are Unremitting, Just for Customer Satisfication!

| | |
| --- | --- |
| Contact Person : | Mr. Kevin |
| Job Title : | Sales Director |
| WHATSAPP : | +86 136 5379 2967 |
| Skype : | glasstempering |
| Email : | sales@leverglass.com |
| Website: | www.leverglass.com |